Welcome to JP Excavating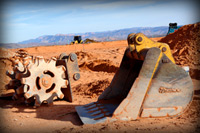 JP Excavating, Inc. has been moving dirt and beautifying the land since 1993.
The company's experienced crews are specially trained and ready, with the most up to date equipment and technology, to handle the job quickly and efficiently the first time and always on-time. The excavation specialists at JP Excavating, Inc. are the most talented and effective in their fields insuring you get the highest quality work available. Our reputation for excellence speaks for itself. We are bonded, licensed and insured in Utah, Nevada and Arizona.
Our proactive working relationship with our customers is the key to our longevity. We 'partner' with our customers to meet their needs and objectives efficiently and professionally. We pride ourselves in anticipating any future situations that we can steer in a positive direction to save our customers time and money. We accomplish this through value engineering, design reviews and expertise gained from past experience.
Read More
Preferred Services
In The News
President/Owner of JP Excavating, Judd Palmer, was featured in the new Wheeler marketing materials.

JP Excavating was featured in the new Wheeler commercial